At the end of April, IEA established the report of Global EV Outlook 2021, reviewed the world electric vehicle market, and predicted the trend of the market in 2030.
In this report, the most related words to China are "dominate", "Lead", "largest" and "most".
For example:
China has the largest number of electric vehicles in the world;
China has the largest number of electric car models;
China dominates the global market for electric buses and heavy trucks;
China is the largest market for electric light commercial vehicles;
China accounts for more than 70 percent of the world's power battery production;
China leads the world in fast and slow charging infrastructure for electric vehicles.
The second-largest market is Europe, at present, although there is still a big gap between the number of electric vehicles in Europe and China, in 2020, Europe already overtook China for the first time and became the world's largest electric vehicle consumption region.
The IEA report predicts that by 2030, there could be 145 million electric vehicles on the road globally. China and Europe will continue to be the world's top markets for electric vehicles.
China has the largest quantity, but Europe wins in 2020.
According to the IEA, there will be more than 10 million electric vehicles in the world by the end of 2020. Of these, 4.5 million are in China, 3.2 million are in Europe and 1.7 million are in the United States, with the rest are scattered across other countries and regions.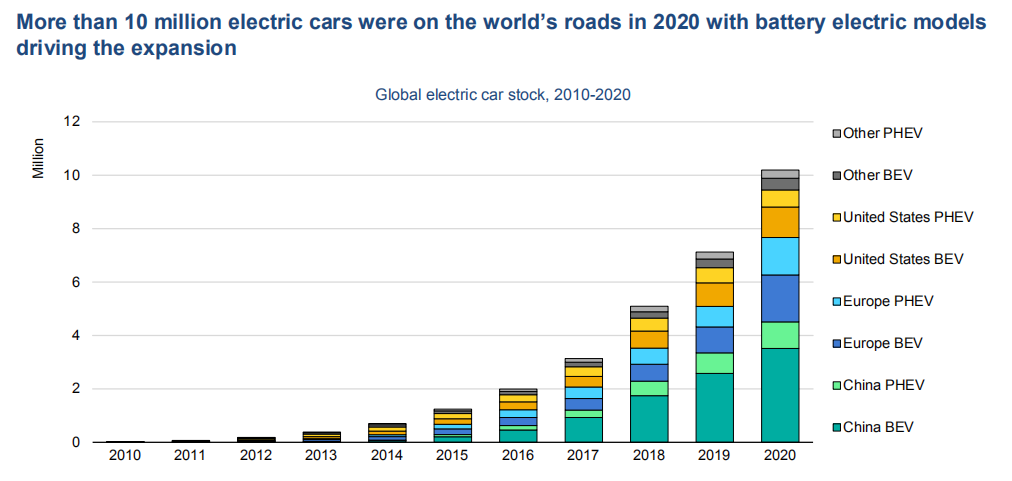 For years, China remained the world's largest market for electric vehicles until 2020, when it was overtaken for the first time by Europe. In 2021, 1.4 million new electric vehicles were registered in Europe, accounting for nearly half of global electric vehicle sales. Europe's share of new electric car registrations that year reached 10%, far higher than any other country or region.
In 2030, 145 million or 230 million?
The global electric vehicle market is forecasting to continue to grow rapidly from 2020, according to the IEA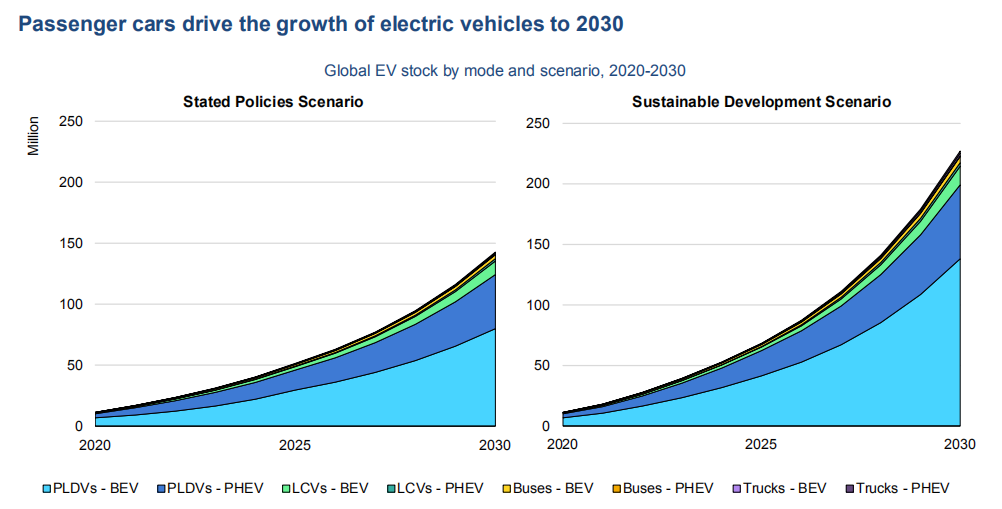 The IEA report is divided into two scenarios: one is based on existing EV development plans of governments; The other scenario is to build on existing plans and implement more stringent carbon reduction measures.
In the first scenario, the IEA predicts that by 2030 there will be 145 million electric vehicles on the road globally, with an average annual growth rate of 30%. Under the second scenario, 230 million electric vehicles could be on the road globally by 2030, accounting for 12% of the market.
The IEA report notes that China and Europe remain the most important driving markets for meeting the 2030 target.
If you want to know more details, kindly please contact us for full report:sales@wyevcharger.com.
---
Post time: May-17-2021